Hey everyone! Happy Monday!
Hope that everyone had an awesome weekend! I got to go visit my sister's for the weekend. We went to
this
amazing creperie in Lancaster and did some shopping. I'm definitely going to share some pictures soon.
Also, Sunday was my last day at my internship.(Also, if you want to hear the sermon I did a couple of weeks ago, you can click
here
; I didn't listen to it, because I don't really like hearing my voice on the mike, so I hope it all sounds okay.) I was so sad, I'm surprised I just didn't bawl in front of the whole congregation. I'm going to be a real mess when I move out the apartment this Saturday.
Anywho, I had plans to take pictures of another part of my Melmac collection - I decided to wait to got home from my eventful day of Hershey Park-ing, orthodontist-ing, and thrifting. I thought that the lighting would be okay, but I went to edit them and they just didn't get right. I hope that I can retake them in the same place with better light for next Monday.
So, tonight you just get some Etsy Melmac finds. I decided to go with some colors that would be perfect as school and fall get closer and closer.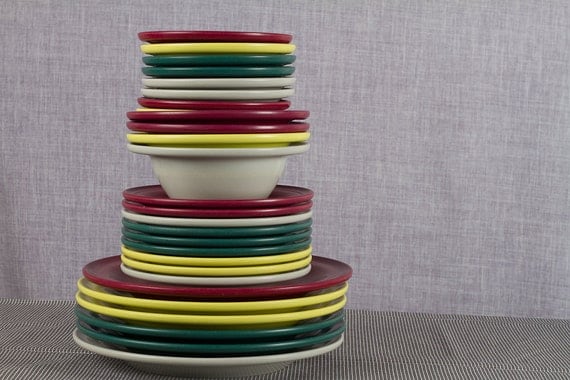 xoxo,

Laura